Click On My New eBook

NOW

To Get Your 

FREE

Copy!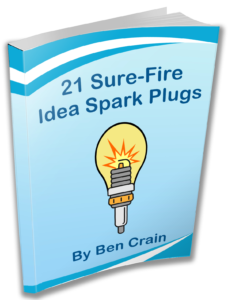 I'm so glad you're ready to open up your creative mind.
After spending more than 20 years in the ad agency business, I've acquired quite a lot of tricks to overcome creative mental blocks. So I've taken 21 of the very best techniques and cataloged them in this ebook as a handy reference guide for people, like yourself, who need an occasional creative nudge from time to time. I hope these Idea Spark Plugs will get your creative juices flowing and help you come up with lots of proverbial "Big Ideas."
Enjoy!